Yara Emad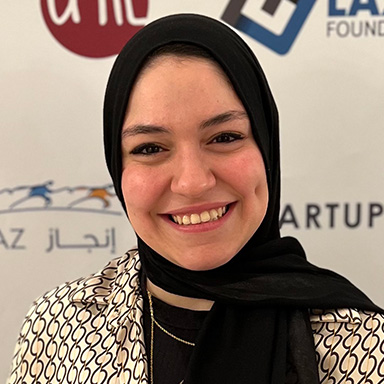 Yara has been working as an advanced trainer in the field of (SRHR) and gender with Y-PEER Egypt (Funded by UNFPA ) since 2016. She currently works as a trainer on comprehensive sexuality education with Love Matters.
Yara tries to understand the health problems that occur in Egypt and which methods are followed by health organizations. She attended a reproductive health training with the Asfari Institute for Civil Society and Citizenship at the American University of Beirut.
Yara is also interested in the field of research, and participated on a research project between Agiad Psychiatric Hospital in Egypt and Pittsburgh University in the USA in 2020.
Nawal Bahaa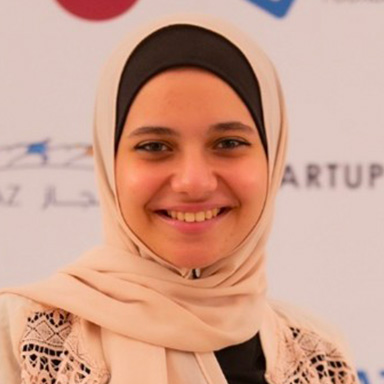 As a truth seeker Nawal has always been eager to know the "why" behind everything: Why is life the way it is? Why are people the way they are? Why is life is sometimes not fair? The urge to answer these questions led her to certain paths in life: education, entrepreneurship sustainability and social research. Therefore, while in college, she volunteered in student organizations and worked on education and research-related development projects. Her experiences have led her to the conclusion that she dreams of contributing to the community development sector as a development practitioner.
Manar Sawahel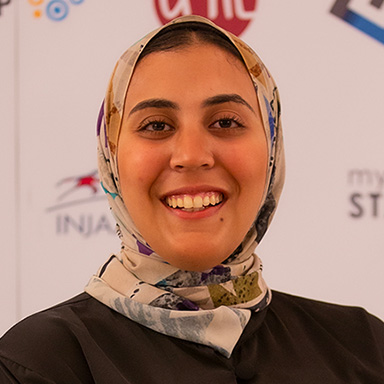 Manar is a social worker, graduating in 2019 from the Faculty of Arts and Department of Sociology at Tanta University. She worked at Dawar on the Sexual and Reproductive Health Project by Image and Forum Theatre with OXFAM, and she worked for 3 years as a facilitator with children and adults on the Drosos Project at El Shehab Development in Ezbt El-Hagana.
She facilitated workshops part of a UN Women project to support refugee women at Dawar, facilitated many Theatre Kids workshops at Dawr Ezbt Kahrialla with the Dutch Embassy, facilitated workshops with homeless children on a project with Sawa Center for psychology consultations and the Relief and Emergency Foundation, and facilitated TOT for Care volunteers using Forum Theatre with communities .
She has been volunteering with local NGO's and INGO's such as UNICEF and Tdh since 2015.
She has a diploma in Community Action Method By Arts and a diploma in Forum Theatre from Dawar. She took participated in the Active Citizen program, and took a training workshop on Theatre Kids With Simon Di Yong at Dawar .
Manar is a member of the Medfest Festival Film team.
Nada Bedchiche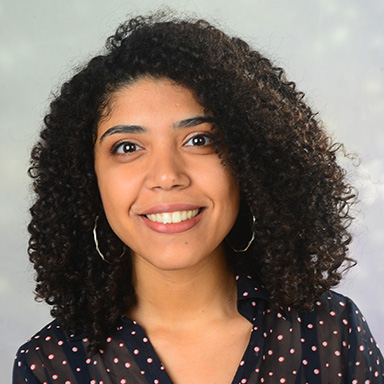 Nada Bedchiche is a public law graduate passionate about human rights, gender, and youth participation in public life.
She has volunteering experience with multiple NGOs such as Inno-Peace, Hult-Prize and IIDebate. She has worked on different topics and has been in different positions ranging from editing to coordination. She is also a civic education trainer who has worked with teenagers in middle schools. In addition, she has worked as a project assistant in the field of local governance. She is currently a public law researcher and a part-time lecturer in public international law, which allows her to have good knowledge of research methods.
"Being part of [the] Lazord Fellowship would be a conducive environment to brainstorm, have constructive debates and to work with people who have already worked on the same cause. It's an opportunity to be part of a team with a vision of the future and whose ideas and projects are sustainable."
Noomen Noomen
Noomen is a young Tunisian filmmaker and sound designer who holds a bachelor's degree in civil engineering. After a year of working in this field, he decided to live his dream by studying cinema at the University of Carthage's Gammarth Higher School of Audiovisual and Cinema (ESAC).
In 2019, he filmed his first amateur independent traveling documentary film (PRAVO) in Serbia about EXIT festival, which was selected in over 17 film festivals.
During the first global quarantine in 2020, he filmed his first school film on his own as a specific project: an experimental documentary (EARTH IS HOME) in 5 different countries (USA, Iran, Russia, Croatia and Australia), which was selected in over 80 film festivals all over the world in Africa, America, Europe and Asia. It has won the best international recognition film award at the 3rd Nepal Cultural International Film Festival, is the winner of the Dhaka OIC Youth Capital Film Award in Bangladesh, winner as the Best International Short Documentary at Khamrubu International Short Film Festival in India, winner as the Best Arabic Short Documentary at WICA Los Angeles in USA, and winner as the best international documentary at Cine World Short Film Festival in Sri Lanka.
In 2021 he filmed his first experimental film project (METROPOLIS) within the Ciné Par'Court program, supported by Goethe Institut and produced by CNCI (National Center of Cinema and Picture) in Tunisia
In 2022 he filmed his first fiction film project (AQUARIUM) produced by IOM (International Organization for Migration)
Currently, he is working on his master's degree at the National School of Architecture and Urban Planning (ENAU).
Arij Tounsi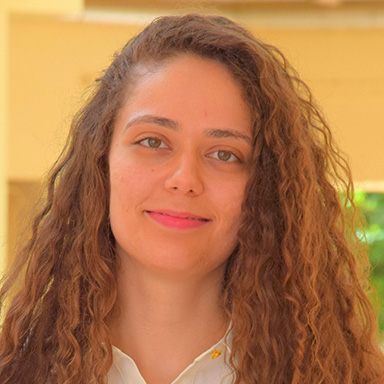 Arij, a highly dedicated and ambitious person, holds a bachelor's degree in English and is a recent M.A. graduate in English Literature. She has worked as an online translator with an international company. This experience shaped her skills and helped her to become proficient in quick and precise translation. However, Arij has always wondered about ways of introducing change to the world. She decided to explore working with organizations that focus on social change. Volunteering within WeYouth organization granted her the chance to dive deeper into civic engagement and opened her perspectives. The Lazord Fellowship came right on time. It allows her to build her capacities and grants her the chance to implement her newly acquired skills to create change in her region. She is currently placed at the Tunisian Association Against Sexually Transmitted Diseases and AIDS (ATL MST SIDA Sfax) where she is on a continuous journey of learning. Arij will continue wandering and wondering, constantly looking for new challenges to further improve her performance.
Ons Ben Sassi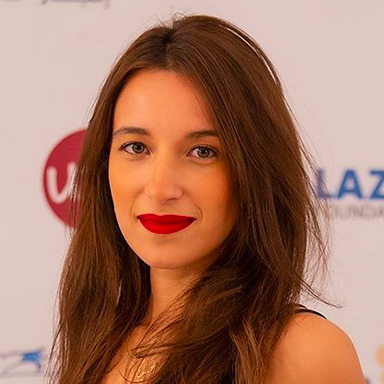 Ons Ben Sassi recently graduated from the Higher Institute of Fine Arts in Tunis with a research master's degree in interior architecture. Before being placed as a project coordinator in a Tunisian CSO with the Lazord Fellowship, Ons got a certificate in UX/UI design.
She has worked as a founding membre of Rotaract Club, a nonprofit civic-based organisation which focuses on the development of young adults as leaders in their communities and workplaces. She has also participated in Tunisian Model United Nations by being part of a debate on the power of migration flows during the creation of a sustainable economy.
Her native language is Arabic, but she is fluent in spoken and written French and English, and soon German. In addition, she is skilled in digital marketing, web design and design softwares such as 3DsMax, Photoshop, etc. Ons is highly motivated as an ambitious and polyvalent person who brings to bear all her efforts and skills. She will inspire you to do work you're proud of.
Yasminn Rekik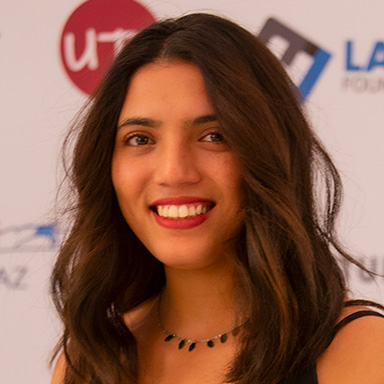 Yassmin is passionate about personal growth, animals rights, global issues and volunteering. She worked at an international company that worked with a US sales department in addition to interning at the post office. She is currently volunteering at Sfax El Meziena as an external relations developer. She has had diverse volunteering experiences with organizations such as AIESEC, the Wonder, the Red Cross, and PNUD. She is a native speaker of Arabic, has an advanced level in French, and is fluent in English. Yasmin is always looking for new opportunities to challenge herself, learn new things, fulfill her potential, enhance her skills and network.
Rania Triki
Rania has a background in law, with a bachelor's degree in private law and a master's degree in democracy and electoral management. She is passionate about women's rights, minority rights, and children with disabilities. She volunteer in a deaf mute association, and is now working with Article 19 through the Lazord Fellowship.
"The greatest glory in living lies not in never falling, but in rising every time we fall." -Nelson Mandela
Aya Azouz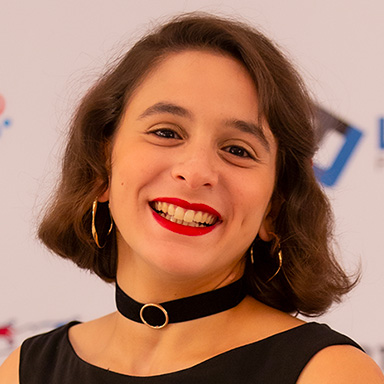 Aya is from Manouba, Tunis, and she chose to become a Lazord Fellow because she wanted to develop her skills and learn how professional life and its dynamics work. This will help her find a spot in the job market, or help others find one by creating her own business.
She is an active and dynamic scout leader who is interested in sustainable development and sustainability in general. She has been the regional coordinator and commissioner for 2 years, and she is interested in entrepreneurship, human rights, and SDG advocacy. Lastly, shes love coaching conversational English to professionals who need it.
If Aya had a superpower, she would encourage the use of technology to make the world greener, and to help stabilize the environment for future generations.