Ali Hisham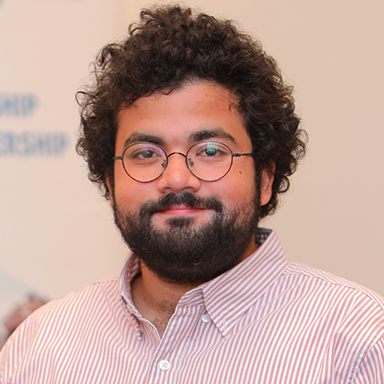 Ali Hisham is an innovative writer with 10 years of experience. He began publishing his writings in print newspapers in 2010. He published his first book Naql Aam with four editions that hit the bestseller shelves, while being the youngest story writer in Egypt. Hisham is currently in the process of publishing his second book. He is also an E-blogger whose blog, www.kobbaya.com, has reached more than 200K views. In December 2011 Hisham co-founded a grassroots movement in Egypt, Thawra Ma'hash Beta'a (Revolution Without an ID), that focused on students' rights and worked on discovering children's talents. He was selected by Amnesty International Nederland as Egypt's Country Representative. Hisham became a certified and experienced Arabic proofreader and worked with Social Justice Platform as an Arabic editor and proofreader for two years. He also has a great passion for marketing, and therefore worked as a copywriter for two years in the advertising industry. He is also a passionate journalist who has experience in conducting research and preparing TV shows.
Zeinab Gamal Ali Mohamed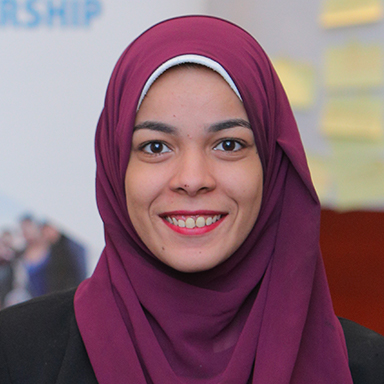 Zeinab comes from Qena in Upper Egypt. She graduated third in her class from the Faculty of Commerce and Business Administration (English section). She also graduated from Dandara Schools for knowledge as she is a member of Dandara Cultural Center. Following are some examples of her achievements during college:
• Youth Leadership Programme Coordinator: Through an agreement between Dandara Cultural Center (DCC) and United Nations Development Programme (UNDP) she represented DCC in the YLP5 regional workshop in Beirut, Lebanon. She was then the programme coordinator in DCC and responsible for following up on the implementation of youth innovation camps, online and offline orientation sessions on SDGs, and community dialogues.
• General English Programme Coordinator: She coordinated the programme plan between DCC and AUC-School of Continuing Education (SCE) to offer AUC-SCE English courses to youth in Upper Egypt.
• Youth Empowerment Programme Specialist: She was responsible for planning, implementing, reporting, and following up on the youth programme in Qena as well as organizing youth-related events such as the Upper Egypt Youth Forum with other governorate coordinators.
Zeinab is ambitious, committed, and eager to learn new skills and knowledge to develop herself and to continually achieve more.
Yousef Hesham Shoukry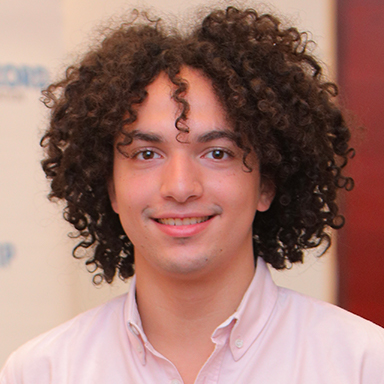 Yousef graduated from Cairo University in 2019 with a major in business administration. During his time in college, he and his team established the VIA Club with an aim of narrowing the gap between student competencies and market needs. While serving as a vice president of VIA Club, he facilitated more than 2000 trainings, internships, and work opportunities. Furthermore, his participation in international programs in Japan and working with professionals from around the globe gave him a new perspective on global challenges. After graduation, he worked at Helm as a Business Development Executive, securing 12 Million EGP to fund projects to empower People with Disabilities while building partnerships with more than 50 local and international organizations. His interest in economic empowerment motivated him to join Enroot Consulting where he currently works as a Program Officer, managing projects across Egypt along with various donor organizations.
Ahmed Tag Mohamed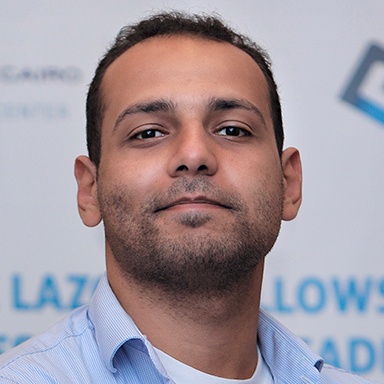 Ahmed is motivated by his passion for civic engagement, intercultural dialogue, the arts, and filmmaking. He decided to apply to the Lazord Fellowship because of his strong belief in arts and culture as a method for social change. Ahmed was particularly engaged during college, writing and translating several published articles on the social and political situation in Egypt and globally. He also volunteered and participated in many civic engagement projects and exchange programs in Egypt and abroad. Ahmed is an art enthusiast who is passionate about photography, videography, creative writing, and storytelling. Since 2017, he has written, filmed, edited, and directed several short films that have been submitted to film festivals, winning awards in Egypt and internationally.
Mohamed Mahmoud Hafez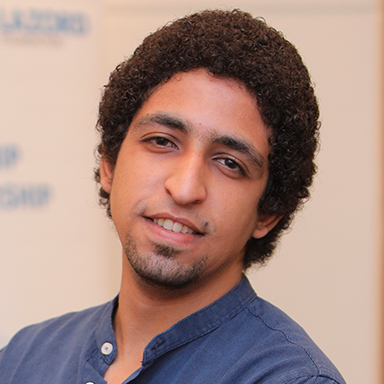 Hafez grew up in Qena, a small city in Upper Egypt. Being a part of various programs and projects helped him develop his personal and professional skills. Over the past five years he has experienced working and volunteering with different organizations on programs that worked on various issues and topics such as livelihood, entrepreneurship, culture, and women empowerment.
Hafez's passion has always been creating positive change in people's lives. He is particularly interested in working with people who live in vulnerable situations or who are affected by society's conditions. His interest in the field of development led him to join the Lazord Fellowship, in order to be surrounded and supported by a network of fellows and alumni, to help him grow, gain more knowledge, and obtain more experience. His focus is mainly on economic empowerment and, more recently, on providing access to quality education for children and youth.
Khuzama Wardeh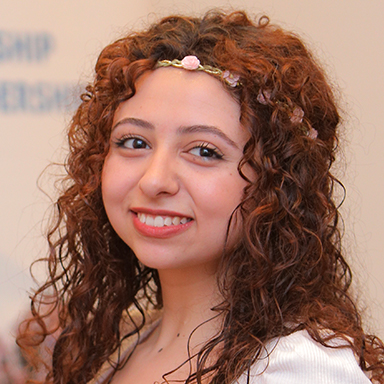 Khuzama's perspective on life is similar to that of many people: to spread justice and to end poverty. Instead of dreaming big and acting little, Khuzama has worked as an engineer, trained in the renewable energy sector, and is currently exploring alternative fuels and the waste management sector. Her volunteering journey focuses on scientific writing where she introduced science topics and news to people who were unfamiliar with the sector through two platforms, Elakademia Post and Scientific Arab. She is grateful that her life has been enriched with very important experiences and people from different parts of the world. Her plan is to help people and the planet–to get decent, green, and sustainable services.
Ghada Abd al-Aziz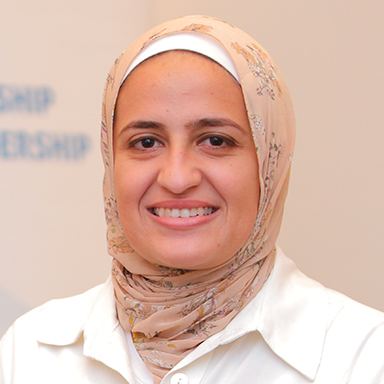 Ghada is originally from Alexandria and is a wanderer with a speck of wonder. Her BSc in Architecture allowed her to gain technical skills that helped her to understand, analyze, and design. She is not fixated on designing what does not already exist, and thus works on what is around her; she applies this way of working to both cities and buildings. Through workshops, she worked on getting hands-on experience in building with mud in Siwa and Fayoum, gaining an understanding about communities rooted in self-dependency. Through guidance, she learned to see the importance of the intersection between technical and social sciences; from this point on she has been working on finding this intersectionality in fields related to communities and the built-up realm.
Yara Osman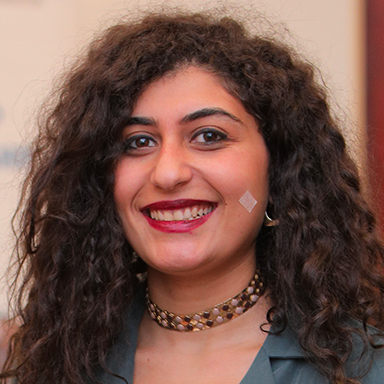 Yara started working in sexual and reproductive health and rights (SRHR) as a local officer in her university where she held several on-ground campaigns for two years. She later became the national officer assistant, during which she was the focal point for the International Federation of Medical Students Associations (IFMSA) and delivered workshops in several universities. She continued her work on an international level as a development assistant where she handled the approval and evaluation of all SRHR workshops globally, as well overseeing a small working group that created a manual for HIV advocacy and educational training. Lastly, she became the regional assistant of SRHR, where she worked with 13 countries in the MENA region. She executed 5 digital awareness campaigns, oversaw a 3-day regional meeting, delivered workshops and activated two new countries. Through the Lazord Fellowship, she is placed at UNAIDS as the Partnerships and Resource Mobilization Assistant.
Iman Mohamed Elhadidi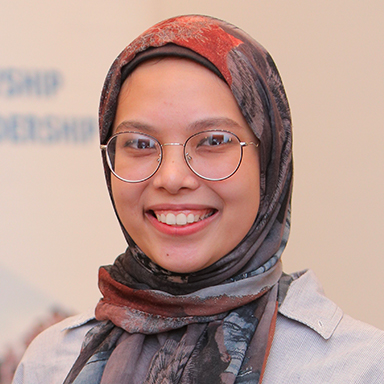 As a 23-year-old Filipina-Egyptian born in Egypt, Iman is the product of two cultures melded into one. The diversity she grew up witnessing had a great role in shaping her personality and interests in life. Iman obtained her bachelor's degree in economics with honors from the Faculty of Economics and Political Sciences, Cairo University, with a passion for migration and refugee studies. Right after graduation, she volunteered for a refugee educational program funded by UNICEF, shortly after which she got the opportunity to become a Lazord Fellow. Iman was lucky enough to be placed at the International Organization for Migration (IOM), where she is working on projects that foster the integration and acceptance of non-Egyptians into the society. Iman considers this fellowship as the golden opportunity to promote her personal and professional development and growth.
Mariam Dahab
Mariam's story started when her grandfather moved from Nubia to Alexandria more than 6O years ago to search for a better life. Mariam was born and raised in Alexandria. As a Nubian girl, it seemed like she had good luck, better opportunities in education, and roads to explore arts and culture in life. However, she believes that history has a tendency to repeat itself. As memory fades, events from the past can become events of the present. Exploring origins, roots, and history is what has moved her forward in most of her life and educational experiences. After choosing to study fine arts, she specialized in sculpture. Through this, she explored her connection with clay, connecting back to her Nubian roots, as clay used for sculpture in Egypt comes from Aswan.
She decided that her mission and purpose in life was to take advantage of various opportunities and experiences, to go back to Nubia to share what she has learned, and to start a learning community. She believes that if people feel that you trust their knowledge, culture, and work for their needs, rather than for your own plans, they will in turn trust and support you. Mariam is planning to gain more knowledge and skills that will help her achieve her purpose. She wishes to create a space for informal education, peace building, and a learning community where knowledge is shared between women, families and generations, in order to preserve language, culture and history; she hopes to help her community create their own way for sustainable development through their own efforts.
Mariam perceives this fellowship as an opportunity to interact through a network of colleagues, alumni, and mentors from diverse professional backgrounds and cultures coming from all over Egypt. She perceives networking as a very important step to integrate different experiences.